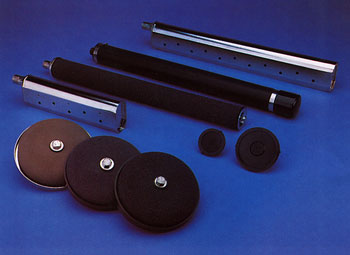 The Evolution of Diffused Gas Aeration


Basic Technology Spans Centuries
The origins of the gas diffusion aeration of water and wastewater streams can be traced to the post-Industrial Revolution period of the late 19th century. Its impetus was the need for expansion and improvement in the integrity of the water supply being consumed and the wastewater treatment infrastructure caused by the rapid growth during that period. The diffusers allowed for easy manufacture, installation, operation and maintenance....assuring widespread use and acceptance.
Modern Technology Spearheaded by DGT
Gas-to-liquid transfer technology with diffusers has evolved from crude perforated plates and tubes to high-performance devices which are designed to be application specific. Diffused Gas Technologies, Inc. is at the forefront of this technology. This family of diffusers can provide bubble sizes from coarse to extremely fine, with flow ranges from .5 to 50 CFM. This product versatility allows Diffused Gas Technologies, Inc. to meet any application criteria.
Diffused Gas Technologies, Inc. offers five different types of diffusers:
DP and DS Series Hydro-Chek Coarse Bubble Diffusers
SS Series Plenum Coarse Bubble Diffuser
MTD Series Membrane Check Valve Fine Bubble Diffuser
FBP and FBS Series Dome Ceramic Fine Bubble Diffusers
FBT Series Tubular Ceramic Fine Bubble Diffusers
---
Diffuser Designs To
Meet Every Need
---
Diffuser aeration systems are used in a wide rage of process activities in the treatment of water and wastewater.
These processing capabilities include satisfying the biochemical oxygen demand in wastewater treatment systems by providing a sufficient supply of oxygen to the flow. These devices are used primarily in a wide rage of aerobic biological treatment systems. Oxygen is supplied to the wastewater flow in order to feed the biological activity. Diffusers are also used for the diffusion of digester gases such as hydrogen sulfide and sulfur dioxide. Diffusers also act as the interfacing element for the diffusion of gaseous agents to potable water. They are used for the introduction of ozone for the purpose of the oxidation and destruction of bacterial and organic chemical contaminants. Carbon dioxide injection for recarbonation and pH adjustment are other applications.
The selection of the diffuser by the type of bubble it produces is contingent on a combination of factors. The type of the diffuser, the size of the bubble surface (area and its volume) are variables working in conjunction with the depth and configuration of the retention basin. Variables such as the amount of gas transfer required and the degree of agitation needed are integral to the selection process.
The materials of diffuser construction rage from high-performance plastics to durable ceramics and stainless steel for extreme duty applications.
The utility of diffusers extend beyond the diffusion of gases to water and wastewater flows. Other process capabilities include the agitation of liquid flow. Diffusers can be used as a turbulent method of mixing where traditional methods are not suitable. These multiple processing capabilities also enhance any biological or contaminate purging activities which may be taking place.